Welcome to the Journal of Hearing Science ®
Dear Colleagues,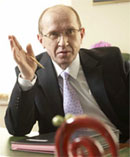 Journal of Hearing Science
is dedicated to current peer-reviewed scientific research in all areas of

Otolaryngology, Audiology, ENT (ear nose throat), Phoniatrics, and Rhinology

. Its primary mission is to offer an international forum for professionals; a secondary aim is to assist hearing practitioners by providing important knowledge helpful to patients with hearing, voice, speech, and balance disorders.
Journal of Hearing Science is issued on continuous basis as a primary on-line electronic journal. The journal is an open access publication which allows all readers around the world free access to articles. Moreover, there are no publication fees or page charges. Before acceptance for publication, each manuscript is subject to critical review by leading authorities in the field.
JHS has a distinguished International Advisory Board and an impressive Editorial... read more
Volume 4(1) 2014


Artur Lorens
(WHC, IFPS, Kajetany, Poland)
JHS 2014; 4(1): SR63-63
ID: 890871
Abstract: The Hearing Implants in Older Adults Workshop was Med-El's second meeting on this multi-disciplinary research topic. In an exciting 1-1/2 day meeting, attended by 120 people from around the world, researchers from a range of hearing science disciplines presented data on geriatric audiology, cognition and hearing, the older brain, electrophysiology, physical and perceptual changes with age, hearing implant surgery, and outcomes as well as balance and fall risks.

Keywords: geriatric audiology, older adults, hearing implants

Collective work
JHS 2014; 4(1): EA49-60
ID: 890872

Rhona Sproat, Mahmood Bhutta, Neil Rane, Pablo Martinez-Devesa
JHS 2014; 4(1): CS41-46
ID: 890437