Welcome to the Journal of Hearing Science ®
Dear Colleagues,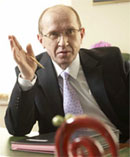 Journal of Hearing Science
is dedicated to current peer-reviewed scientific research in all areas of

Otolaryngology, Audiology, ENT (ear nose throat), Phoniatrics, and Rhinology

. Its primary mission is to offer an international forum for professionals; a secondary aim is to assist hearing practitioners by providing important knowledge helpful to patients with hearing, voice, speech, and balance disorders.
Journal of Hearing Science is issued on continuous basis as a primary on-line electronic journal. The journal is an open access publication which allows all readers around the world free access to articles. Moreover, there are no publication fees or page charges. Before acceptance for publication, each manuscript is subject to critical review by leading authorities in the field.
JHS has a distinguished International Advisory Board and an impressive Editorial... read more
Volume 5(3) 2015


Danuta Raj-Koziak
(Department of Audiology and Phoniatrics, Institute of Physiology and Pathology of Hearing, Warsaw/Kajetany, Poland)
JHS 2015; 5(3): 57-58
ID: 895618
ABSTRACT: The 9th International Tinnitus Conference was held from 7 to 10 June, 2015 in Ann Arbor, Michigan. Once again the conference was organized by the Tinnitus Research Initiative, which supports research aimed at understanding the causes of tinnitus and treatments to reduce or eliminate it. 

Keywords: Clinical Conference, Research Report, Tinnitus

W. Wiktor Jedrzejczak, Lech Sliwa, Krzysztof Kochanek
JHS 2015; 5(2): SR65-67
ID: 895551

Anna Piotrowska, Anita Obrycka
JHS 2015; 5(2): SR63-64
ID: 895057