WELCOME TO Journal of Hearing Science ®
Dear Colleagues,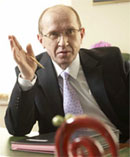 Journal of Hearing Science
is dedicated to current peer-reviewed scientific research in all areas of

Otolaryngology, Audiology, Phoniatrics, and Rhinology

. Its primary mission is to offer an international forum for professionals; a secondary aim is to assist hearing practitioners by providing important knowledge helpful to patients with hearing, voice, speech, and balance disorders.
Journal of Hearing Science is issued on continuous basis as a primary on-line electronic journal. The journal is an open access publication which allows all readers around the world free access to articles. Moreover, there are no publication fees or page charges. Before acceptance for publication, each manuscript is subject to critical review by leading authorities in the field.
JHS has a distinguished International Advisory Board and an impressive Editorial Board. Their high academic standing ensures that the journal produces multidisciplinary papers of the highest quality. The broad international membership promotes fair and thorough assessment.
Sincerely yours,
Prof. Henryk Skarzynski, M.D., Ph.D.
Editor-in-Chief
Volume 3(2) 2013 - Table of Contents
Editorial
Editorial
Henryk Skarzynski
JHS 2013; 3(2): ED0
Manuscript ID: 889911
Original articles
Mismatch Negativity in Childhood Temporal Lobe Epilepsy: A Proposed Paradigm for Testing Central Auditory Processing
David Tomé, Pedro Moreira, João Marques-Teixeira, Fernando Barbosa, Satu Jääskeläinen
JHS 2013; 3(2): OA9-15
Manuscript ID: 889024
Speech Perception Abilities in Individuals with Auditory Neuropathy Spectrum Disorder with Preserved Temporal Synchrony
H.S. Chandan, P. Prabhu
JHS 2013; 3(2): OA16-21
Manuscript ID: 889481
Clinical Study of Aided Cortical Auditory Evoked Potentials in Pediatric Auditory Brainstem Implantees
Raghunandhan Sampathkumar, Mohan Kameswaran, Prashant Sharma, Ranjith Rajeswaran, Chandrasekhar Reddy
JHS 2013; 3(2): OA22-29
Manuscript ID: 889236
Central Auditory Processes Predict Reading Abilities of Children with Developmental Dyslexia
Monika Lewandowska, Malgorzata Ganc, Elzbieta Wlodarczyk, Andrzej Senderski, David McPherson, Dorota Bednarek, Henryk Skarzynski
JHS 2013; 3(2): 30-40
Manuscript ID: 889538
Prevalence of Communication Disorders in a Rural Population of Republic of India
Sreeraj Konadath, Suma C., Jayaram G., Sandeep M., Mahima G., Shreyank P.S.
JHS 2013; 3(2): OA41-49
Manuscript ID: 889007
Special reports
11th European Symposium on Pediatric Cochlear Implantation (ESPCI), 23-26 May 2013, Istanbul, Turkey
Katarzyna Ciesla
JHS 2013; 3(2): SR63-70
Manuscript ID: 889812
Report on Hearing Ccreening Pilot Study In Kyrgyzstan, 30 January – 3 February 2013
Agnieszka Majchrzak, Piotr Skarzynski
JHS 2013; 3(2): SR71-71
Manuscript ID: 889813
Conference on "Current Possibilities for Diagnosis, Treatment and Rehabilitation of Patients with Hearing Loss", Lutsk, Ukraine, 21–22 January 2013
Agnieszka Majchrzak
JHS 2013; 3(2): SR72-72
Manuscript ID: 889814
Report on 20th IFOS World Congress, 1–5 June 2013, Seoul, Korea
W. Jedrzejczak, Piotr Skarzynski, Henryk Skarzynski
JHS 2013; 3(2): SR73-74
Manuscript ID: 889882